Established in 2018 by female leaders at Horizon, our Women in Leadership program's mission is to:
INSPIRE AND SUPPORT THE PERSONAL AND PROFESSIONAL SUCCESS OF WOMEN AT HORIZON BEVERAGE.
The group consists of 74 women and men in sales, portfolio, and operational management positions in Massachusetts and Rhode Island. The group's main objectives are to provide female-focused career and personal development skills training, create a safe forum for a productive exchange of ideas and experiences, give women an opportunity to positively affect an evolving culture, and team building through community outreach and charity partnerships.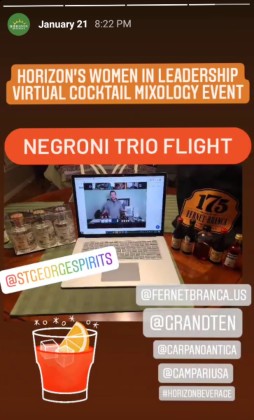 WiL Virtual Events
In 2021 & 2020 we've held 5 virtual educational events as a way for our group to informally learn the history and distilling process of many popular spirits, taught by our Manager of Spirits Education and Development Patrick Gaggiano. It was wonderful to see so many smiling faces connecting and interacting socially while making and sipping cocktails "together" from a safe social distancing. Sponsors of the events included Bacardi USA, Beam Suntory, Branca USA, Campari, Clean Co, Fever Tree, Ghost Tequila, Horizon Beverage, Hotaling, Patron, Rhum Clement, St George, and Samson & Surrey.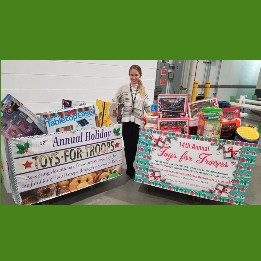 Empowering Female Professional and Personal Development
• Participated in the Boston Business Journal's Mentoring Monday for the third consecutive year. This one-of-a-kind event brought together women in the business community for a morning of networking, keynote remarks, presentation panels, breakout mentoring sessions, and fun in a fast-paced coaching atmosphere.
• Partnered with Bacardi and the Bentley Center for Women and Business to present "Overcoming Hidden Barriers and Addressing the Gender Confidence Gap" workshop.
• Partnered with The Predictive Index to offer an assessment tool that identified behaviors that participants have a natural tendency toward and how to leverage those tendencies for success.
• Partnered with Heineken and had a photographer take professional headshots so participants could update their digital profiles.
• Partnered with Campari and Bentley Center for Women and Business to present "Men as Allies" workshop. The workshop was also attended by all members of ownership and executive management.
WHAT HAVE ATTENDEES TAKEN AWAY FROM HORIZON'S WOMEN IN LEADERSHIP EVENTS?
Anonymous feedback from surveys:
"A sense of calm knowing my struggles are not just mine alone"
"…knowledge about how to grow from both strengths and weaknesses"
"mentoring looks different in every relationship"
"…stop with the guilt…more support for each other"
"…a boost in confidence"
"I have become more open minded"
"…to advocate more for myself and groups I am passionate about"
"I want to volunteer more"
"…have passion and stick to your honest feelings"
"…be genuine"
"I am inspired to dig in and truly understand why our employees are with us…"