Unparalleled Marketing Services
Point-of-Sale Graphic Design, Retail Merchandising and Event Management for our customers and suppliers.
BRINGING IDEAS TO LIFE
To promote your business and increase sales, our marketing services include graphic design, retail merchandising and event planning & management.
GRAPHIC DESIGN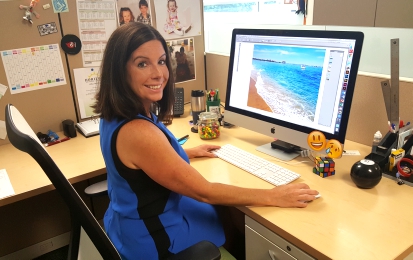 Horizon Beverage's graphic design department creates high-quality promotional collateral for any occasion such as a marketing plan for restaurant or a package store promotion. With efficient, in-house production we turn projects around in just a few days.
Our capabilities include:
Table tents
Drink menus and lists
Synthetic menu stock
One-way view window mesh
Floor decals
Supplier-based point-of-sale (POS) materials
We also offer a diverse line of customizable menu covers. While timelines vary, most can be ordered & received within 2-3 weeks.
Need graphic designs for your business? Contact your Horizon Beverage salesperson.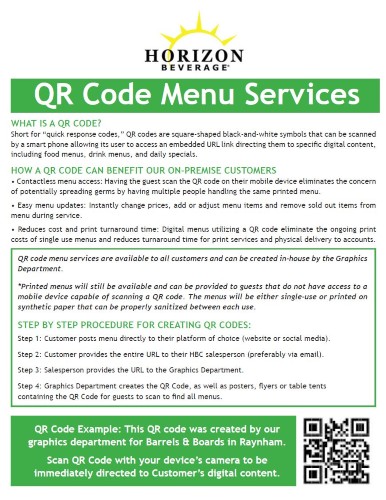 Benefits of using a Digital Menu
Contactless menus are easy to implement and with a one-time QR code set-up
Your team can change your menu as often as you like for daily specials, price changes and more
Sustainable and earth-friendly
To view the menu, simply point your mobile phone's camera at the QR Code. Your device will recognize the Code and connect you to the page to view the Menu.
Note: please test your QR code upon receipt to ensure it directs to the correct page. QR codes, like all technologies, may be subject to misappropriation by third parties. Horizon is not responsible for any such actions and cannot guarantee technological security of the QR code system.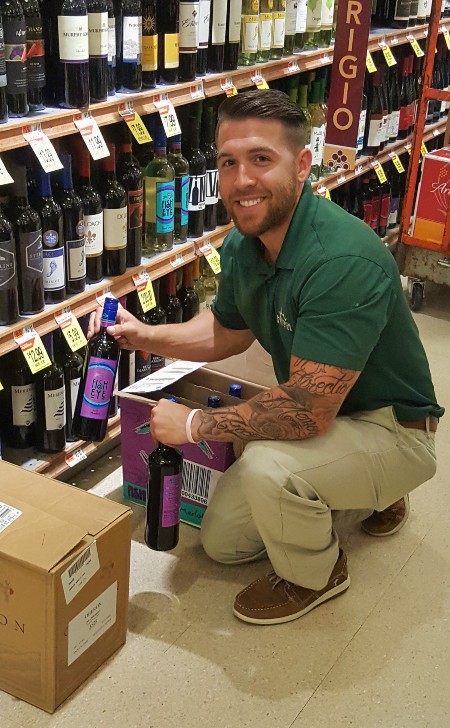 Retail Merchandising
How your store displays its products can influence the purchasing habits and decisions of your consumers. Your Horizon Beverage representative is equipped with the best tools necessary to move products from the floor to out the door.
To set you up for success, we provide many options for your store's needs:
Branded beer, wine and spirits display racks
Case cards
Shelf-talkers
Customized window signage
Contact your Horizon Beverage rep today for a point-of-sale (POS) consultation.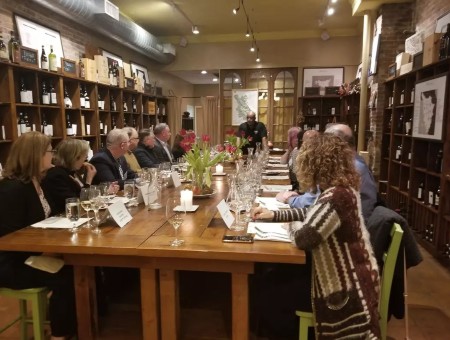 EVENT PLANNING & MANAGEMENT
Nothing brings people closer together than a delicious drink at an exciting event. At Horizon Beverage, we understand the importance of building educational and promotional events for our clients. We want to coordinate your next event:
Wine tastings
Staff trainings
Consumer sampling
Seminars with makers
Pairing dinners
And much more
Contact your Horizon Beverage salesperson to begin planning your next event.