Second to None Beverage Distribution
We believe in delivering quick, efficient service to our customers. We fulfill this duty with great pride, and we make all efforts to ensure the best possible service and satisfaction.
With more than 800,000 square feet, our state-of-the-art facilities stand as a testament to the dedication we have to our customers.
Take a look at our beverage distribution warehouse and you'll see why Horizon Beverage is second to none.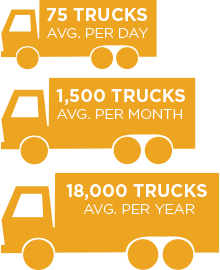 OUR TEAM OF SPIRITS, WINE AND BEER WHOLESALE DISTRIBUTORS
We employ top-notch technicians who oversee all the processes, and our management staff fosters a strong, cohesive unit that ensures efficient and accurate shipments. Horizon Beverage ships more than 31,000 cases a night — and we couldn't do it without our incredible team. Not only will you find exceptional spirits, wine and beer distribution service within the walls of our warehouse, you'll find them on the road, too, delivering orders to retailers, restaurants, and hotels, alike. Our detail-oriented drivers and driver-helpers strive to provide the friendliest, most professional service possible.